Burled Pterocarpus (Amboyna) for Guitar Construction
Burled Pterocarpus (Amboyna)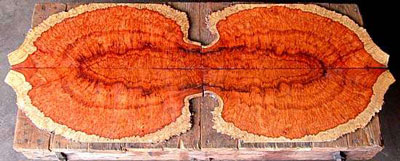 Amboyna Burl among the most sought after of burled woods. The prized Amboyna burl heartwood has a wide range of colors including red, yellows and deep browns with often highly contrasting, striking lines of delineation.
Amboyna Burl has gained enormous popularity with all types of wood workers. Any wood project that calls for a striking appearance can benefit from Amboyna Burl wood.
The wood is moderately dense, very durable and has a sight aroma similar to Cedar. It is relatively easy to work with and finishes beautifully.