Schaller Roller Bridge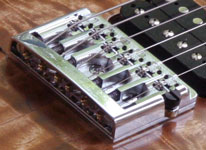 Schaller Roller is One Solid Bridge
The Schaller Roller Bridge bridge is a terrific piece of engineering. It is an extremely comfortable to play, low-profile bridge. It comes with a solid shim in case the additional height is needed. The Schaller Roller Bridge has considerable heft for its size, which adds mass to the equation and helps to improve a guitar's tone and sustain.
The saddles are highly adjustable for both height and intonation. Two tiny allen bolts (wrench is included) enable one to adjust the height of each individual saddle to perfectly match the radius of the neck, and the intonation screw heads are easily accessed at the back of the bridge.
Set Screw: No Wiggle Room When Set
The bridge has a black flathead screw set to the side of the bridge, touching the edge of one saddle. When the set screw is turned, it tightens against the side of the saddle, pushing them together solidly so that they are as tight as can be, with absolutely no wiggle room. The tightness of the saddles in conjunction with the solid build quality enables maximum tone transference.
Ease of Intonation
This bridge makes intonating the guitar a little bit easier with its easy access saddle adjustment screws. You needn't search for the intonation screw heads hiding between the strings as on other bridges, as the intonation screws are right on the back of the bridge.